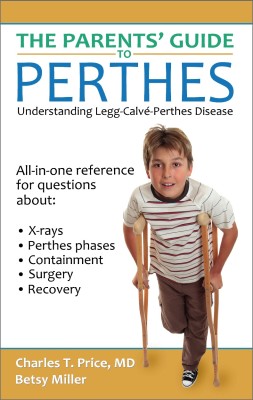 The Parents' Guide to Perthes
provides accurate information and practical advice for families with a child who has Perthes, a rare disease of the hip joint that can affect a child's mobility. Written by Charles T. Price, MD, a pediatric orthopedic surgeon and the author of research papers and medical book chapters about Perthes, and Betsy Miller, the author of
The Parents' Guide to Hip Dysplasia
and
The Parents' Guide to Clubfoot
.
Download Sample Chapter
Overview
The Parents' Guide to Perthes explains what happens when a child has Perthes. This book covers how Perthes is diagnosed and progresses through stages, and how the age of the child at onset affects the course of the disease. Learn about the criteria that doctors consider to develop a treatment plan and read first-person accounts from parents and children about their Perthes experiences. Illustrations and x-ray examples show the effects of Perthes in the hip joint for different children.
Available in paperback where all books are sold, and as an ebook from all major booksellers.
You can also purchase from us directly:
Buy eBook